BatiPlus has strengthen its position as a professional technical inspection services provider by gaining the trust of the next investors.
The ceremony of lying the foundation stone of shopping and entertainment store "Sukcesja" took place on Wednesday, May 21st 2014. BatiPlus present at the ceremony has been performing all functions related to investment management including investment supervision.
The shopping mall which is still under construction will be located in Lodz, Politechniki street nearby students' campus of University of Technology in Lodz. The area of over 128,000 m2 will cover shopping mall, entertainment zone and two-storeys outdoor parking for over 1,000 parking places.
The whole project seems to be the combination of modern architecture with some items remaining history of Lodz. The interior of the building will be decorated with original post-industrial details originated from XIX-XX century while at the entry, there will be a first historic map of the city made from granite with incrustations.
The whole building will include nine-rooms cinema, fitness club, bowling area, green garden and terrace at the roof. The shopping area will be located on three floors while restaurants on one floor and at the ground floor.
This shopping mall has been designed as an ecology friendly and energy efficient building, the first one of this type to be located in Lodz region approved with an BREEAM international certificate of sustainable development. This means, almost half lower emissions of greenhouse gases into the atmosphere, comparing to the buildings built in traditional technology. The Project has been co-financed by European Union from the European Regional Development Funds.
The shopping mall will be completed in 2015.
Decision of the investor – Fabryka Biznesu, to cooperate with BatiPlus during such an important and complex investment aiming to meet high technological requirements, has been expression of confidence to the quality and reliability of BatiPlus Polska based on knowledge and experience of our engineers and professionals.
Data:
Surface area: 3,2 ha
Usable area: above 46 000 m2.
The foundation stone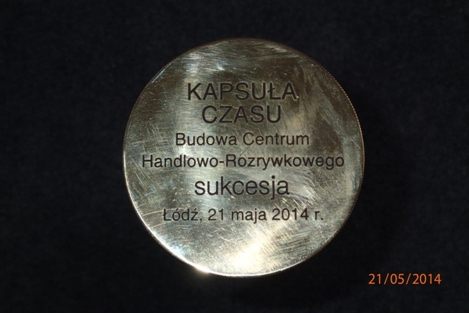 Lying the foundation stone: