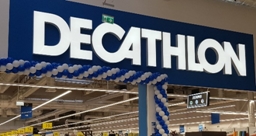 BatiPlus is a Partner supporting Decathlon in program of actions for environment protection.
Decathlon's network store opened recently in Olsztyn is the most ecological facility in Poland, in which many innovative solutions have been applied, such as, but not limited to, the lanterns powered directly by solar panels installed on front facade, solar benches, wind turbines, recycling of rain water as well as green walls out of six species of particular plants resistant to weather conditions.
Engineers from BatiPlus supported this modern investment project by providing services within the range of Technical Control of documentation and quality control for realization of key elements of this structure.
Decathlon is not only the sporting goods retailer, but first of all – a manufacturer of sport equipment. All introduced product innovations have in purpose not only creating the best equipment, but in the first place to run the business in sustainable way. The Company holds on to specific standards of conformity with regard to design, production and business operations. Only during 2019, 550 Decathlon's products have been created on the basis of ecological approach, what means reduction of environmental impact by 20 % without worsening the product functions.