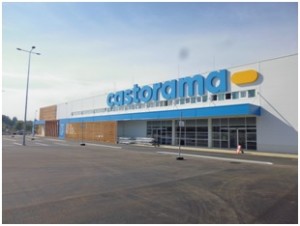 BatiPlus company has completed quality control on the construction site of Castorama building market in Cieszyn at Graniczna Street.
The commercial, expositional and service object with storage facility as well as office and social premises, accompanied by technical infrastructure, roads and parking lots, was being built between March and September 2015. The BatiPlus engineers were responsible for the assessment of project documentation and technical supervision in all fields and throughout the whole construction period. Moreover, they controlled safety of works on the site, participated in the final acceptance and supervised the elimination of the faults and defects found during the acceptance.
Castorama appreciated the quality of the services provided by the BatiPlus team since they were done with due diligence and conformed to the company standards, which resulted in the issuance of adequate references.
Castorama has been operating on the market since 1994 and is the leader in home improvement in our country. Castorama has 73 stores in Poland (including 70 Castorama stores and 3 Brico Depot) with total surface of 554 thousand m2. and employs about 10 thousand workers.
Castorama Polska is a subsidiary of Kingfisher plc, the international company, which operates in 10 European countries and gathers almost 1200 stores. The main brands of the company are B&Q, Castorama, Brico Depot and Screwfix. Kingfisher is also a shareholder of company Koçtaș in Turkey. For further information we refer to www.kingfisher.com .