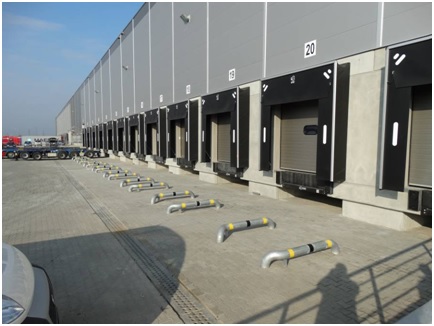 The company BatiPlus was an important partner of Goodman Group during construction process of its largest investment in Gdansk, at 21 Kontenerowa Street.
The above mentioned storage facilities along with social-office areas and technical infrastructure with the total area of 38 700 m2 were built during the period of January-October 2015. Between theirs lessees there are such companies as: UNIVEG, PSTL and EUROCASH. The BatiPlus engineers were responsible for the technical supervision in all fields throughout the whole construction period. They verified and assessed project related files, they checked as well all assumptions taken to the design project of the structures and installations, they participated in the partial and final acceptance and supervised the elimination of the faults and defects found during the acceptance.
The storage facilities built in Gdansk are part of the Pomeranian Logistic Centre located nearby the largest Polish container terminal DCT Gdansk. The investor – Goodman company – is an integrated group operating as an owner, real estate developer, manager of storage facilities and business centers located in Continental Europe, Great Britain, Australia, North America, Brazil and Pacific Asia. In Poland, Goodman Group owns and manages storage facilities with the total area of 700 000 m2 placed in Torun, Gdansk, Cracow, Poznan, Wroclaw and Upper Silesia.
For further information related to this investment please visit corporate web page of Goodman Poland.
http://pl.goodman.com/nieruchomosci/dostepne-nieruchomosci-w-polsce/pomeranian-logistics-centre